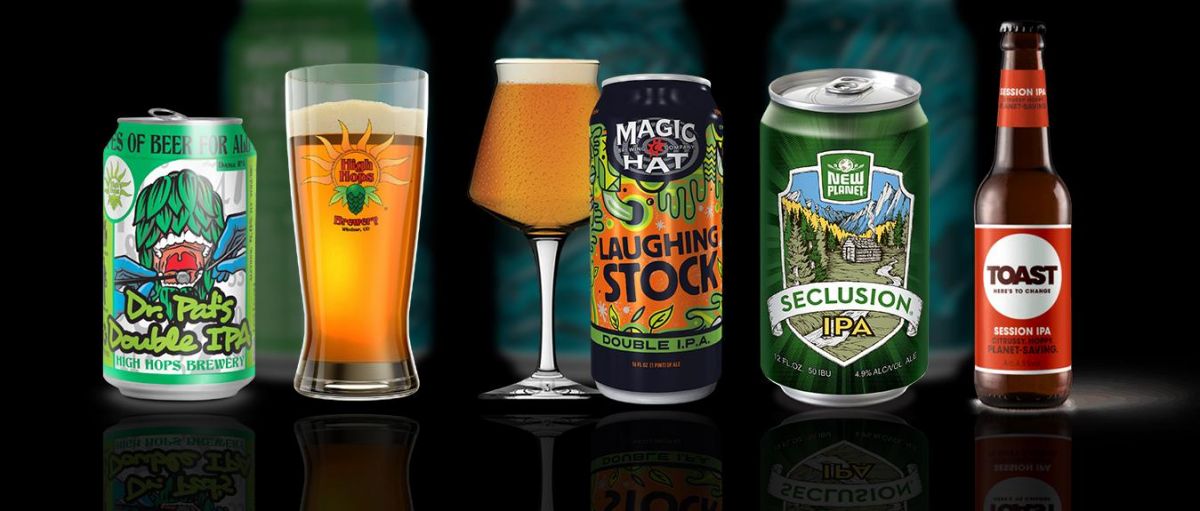 10 Best IPAs to Try Before 2019 Ends
09/10/2019 Stock your collection with the hottest beer style this year. Here are the 10 best IPAs to try before 2019 ends.
India Pale Ale - this hoppy beer has been the hottest beer style that is thriving globally. Its fresh and bittersweet aroma, you can never get enough of it. Breweries such as Revision Brewing Company, Toast Ale, High Hops Brewery, and Grand River Brewery make some wonderful IPAs that can please any IPA lover. If you are seeking for some great IPA brands, here is the list of 10 best IPAs to try before 2019 ends.
[[relatedPurchasesItems-43]]
Revision IPA
The gold medal winner Russian IPA from Revision Brewing Company has low impact bitterness and high impact aroma and flavors. Simcoe hops provide a great hop foundation for this extremely delicious, flavorful and quaffable American India Pale Ale. Its flavors include citrus, orange, and pine meld seamlessly. It has 6.5% alcohol by volume and its International Bitterness Unit Scale is 50. It is available year-round in 22oz "Bomber" bottles, 12oz bottles, and 12oz cans.
Citra Slam
Citra Slam is an American IPA hopped exclusively with one and only Citra hop. It shows off tropical sweet hop flavors and aromas and ripe tangerine with an edge of passionfruit. It contains 6.5% alcohol by volume and 50 IBU (International Bitterness Unit Scale). Citra Slam is available on taproom at Revision Brewing Company. They offer 5oz taster for $2.50, 16oz draft for $5.00, 32oz crowler for $9.00, and a 2L growler for $17.00.
Toast Ale Session IPA
Toast Ale Session IPA is perfectly balanced with hop bitterness and fruit aromas. Infused with hops such as Amarillo, Ahtanum, and Liberty, this Session IPA is a planet-saving beer with fresh surplus bread. Toast Ale's IPA is suitable for vegans and contains 4.5% alcohol by volume, 50 IBU. It may also contain rye and sulphites.
Dr. Pat's Double IPA
This malty beer is a recipe created by Dr. Pat, dentist, third-generation farmer, and Co-founder of High Hops Brewery. It is made with grains including Maris Otter, Pilsen, 2-Row, White Wheat, Carapils, and Caramel 40. Dr. Pat's Double IPA is a heavily-hopped beer infused with hops such as Galena, Centennial, Citra, and Cascade and California ale yeast. It contains 8.6% ABV and 96 IBUs.
Monkey Mouth IPA
Monkey Mouth IPA is everything that you crave in an American IPA. Its hefty malt backbone and a citrus-forward hop profile make a new standard for American IPAs. It has a sweet malty body with a sunset orange color. It shows a perfect balance of the grapefruit and piney notes of the bitter Michigan hops.
Insane Rush
Insane Rush from Bootstrap Brewing is a perfect balance of malts and five different hops which give this India Pale Ale its edge. What makes this IPA quite drinkable is its citrus and pine aromas and flavors that blend together making it perfect for craft enthusiasts. It contains 7.6% alcohol by volume and 51 IBU.
Magic Hat Laughing Stock
Magic Hat Laughing Stock is a big and juicy double IPA from Magic Hat Brewing Company. It is brewed with hops such as warrior, cascade, Amarillo, Citra, Falconer's Flight % Mosaic. It shows off grapefruit, mango, and papaya notes and it has 8.2% alcohol by volume and 80 IBU.
Bitrex IPA Beer
Imported exclusively by BeviBirra, Bitrex IPA Beer is characterized by superbly harmonized English malts with a generous bitterness and aroma hopping with American and peaceful hops. Its bitterness is balanced by the use of caramelized malt. This clear amber American IPA shows white, fine and persistent foam and it has 6.9% alcohol by volume and 60 IBU.
Mass Riot
Mass Riot from Prison City Brewing company is a hazy and juicy India Pale Ale. It is brewed with Simcoe, citra, and mosaic hops and it has 6.8% alcohol by volume in it.
Seclusion IPA
Seclusion IPA from New Planet Beer is brewed with light malts and dry hopped to give it its hop-forward citrus note. This IPA is aromatic and full-bodied without being overbearing. It is brewed with ingredients like barley, oats, hops, yeasts, and water. It contains 4.9% ABV and 50 IBU. It matches dishes with similar intensity including Indian curries, Mexican fajitas or chimichangas, salty and fried snacks, and grilled steak with a caramelized crust.
---
Check out similar articles here.
If you are a brewery looking to grow your beer business in the US, enter into 2020 USA Beer Ratings and get your beer assessed by top-level beer buyers associated with major on and off-premise chains. The competition will take place on 26 July 2020 in San Francisco. Currently, the competition offers a discount on regular entry-fee. Enter before October 31, 2019, and take advantage of super early bird offer.
See what this competition offers your brand.
Get rated by Quality, Value, and Packaging by the top trade buyers in the USA. Enter today and avail the early bird offer. Here is how to enter.