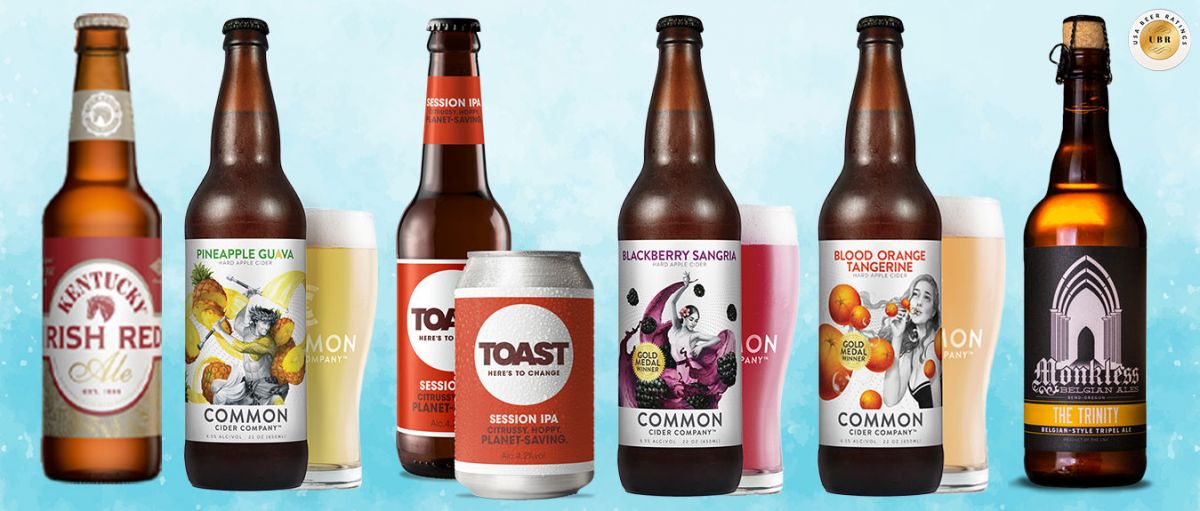 16 Best Beer Brands To Stock In Your Bar
14/12/2020 Looking to add some of the fantastic beer brands in your menu? Here are the top 16 beer brands to stock in your bar.
Do your bar-shelves need some amazing beer brands to offer a good value for your customers' money? Here are the top 16 beer brands to stock in your bar.
Buzzcock
Buzzcock is produced by Butcherknife Brewing Company; Colorado-based company dedicated to craft and community. It's light-bodied and dark-colored ale with a nice easy finish. It has an increased body without an overload of hop character. Its clean taste and unique aroma make this beer a great offering for consumers as well as buyers at bars and restaurants.
The Trinity
The Trinity from Monkless Belgian Ales is made in Belgian Triple style, at 8.1% ABV and 36 IBUs. This gold medal winner does not have a lot of hops to hide behind. It is crisp, clean, and easy-drinking. It goes well with Prosciutto and Triple Crème Brie, anything Pesto, Brussel Sprouts with Bacon, and Peach Cobbler.
Pineapple Guava
Pineapple Guava is an artfully made hard apple cider heightened with tropical pineapple. It is bright, fruity, and off-dry. It goes well with light food dishes or just by itself.
Wreak Havoc® Imperial Red
Wreak Havoc® Imperial Red from Bootstrap Brewing is a delicious, smooth, and massively hoped Imperial red ale. 7 hop additions and the perfect mix of malts give this beer its unique flavor and aroma. Gluten reduced.
Kentucky Irish Red Ale
Kentucky Irish Red Ale from Lexington Brewing & Distilling Company is the first brew produced by the company. It's the combination of two beer styles: Irish Red Ale and English Pale Ale. This ale has a light amber color. Its fantastic body and character are contributed by imported malts and a pinch of wheat malt. It has a rich and smooth taste. It pairs well with a wide range of food such as roast chicken, pork, fish and chips, mild cheese such as Lancashire or Leicester. Pairs great with an oatmeal raisin cookie for dessert.
[[relatedPurchasesItems-43]]
Pilsner
Pilsner from Butcherknife Brewing Company is golden yellow and crystal clear in appearance. It shows off distinctive German zesty spice hop aroma with a slight bitterness in the Bavarian tradition. On the palate, malt notes follow with a smooth sweetness.
Session IPA
Session IPA from the Toast Ale is a citrusy and hoppy beer. It is brewed with surplus fresh bread, malted barley, and modern American hops. Hops used are Amarillo, Ahtanum, and Liberty. Malts used in this beer are pale ale malt, caramalt, and surplus bread.
Dr. Pat's Double IPA
Dr. Pat's Double IPA is produced by High Hops Brewery. It is a malty and heavily-hopped beer with 8.6% ABV and 96 IBUs. Grains such as Maris Otter, Pilsen, 2-Row, White Wheat, Carapils, and Caramel 40 are used in beer. It has hops including Galena, Centennial, Citra, and Cascade.
Blood Orange Tangerine
Blood Orange Tangerine from Common Cider Company is one of our most popular varieties, with just enough juice to capture the essence of citrusy fruit flavor, but not so much that it turns this blend red. It has no artificial flavors or color added.
Blackberry Sangria
Blackberry Sangria from Common Cider Company is a joyful mix of flavor and tradition. It is gracefully blended with blackberries, mango, and California red wine. This flavored apple cider is perfect for a spring picnic and compliments cheese and fruit dishes.
Revision Red
Revision Red, the best beer of the year by quality in 2019 USA Beer Ratings is made with British Maris Otter and Crystal malts combined with a dash of Amarillo hops. It's a malt-forward, smooth and refreshing brew which reflects a blend of the Old World and New World.
Barrel-Aged Finite Madness
Barrel-Aged Finite Madness is aged in Woodford Reserve and Heaven Hill Barrels. It is velvety, viscous, and rich with dark chocolate and roasted coffee nuts, vanilla, caramel, and oak character. While Barrel-Aged Separation Stout combines notes of mocha and milk chocolate with delicate yet punchy bourbon character.
Revision IPA
The gold medal winner Russian IPA has high impact aroma and flavours. Simcoe hops provide a great hop foundation for this extremely delicious and flavorful American IPA. Its flavors include citrus, orange, and pine meld seamlessly.
ABK EDEL
ABK EDEL is for the people who like more malty beers. Germany's ROK Drinks' ABK EDEL has a pillowy head and a deep gold color. To the nose, ABK EDEL is fully hop-mixed with biscuit sweetness. It also leaves freshly baked bread aroma with a hint of some sweet apples and pears. On the palate, you will note the slightly toasted malts which form a buttery finish.
Concord
Concord, the gold medal winner of Black Rabbit Farm reflects wild grape vibe. It has a bright and elegant finish that leaves you wanting more.
Strawberry Knotweed
When harvested young, wild Foraged Knotweed tastes like rhubarb. The Strawberry Knotweed from Black Rabbit Farm of USA is a great summer sipper reflecting fresh local berries.
Get rated by Quality, Value, and Packaging by the top trade buyers in the USA. Enter today and avail the early bird offer. Here is how to enter.