Insights On Australian Craft Beer Industry
03/04/2018 The overall beer market in Australia continues to be challenged in volume by wine and cider, with craft beer the consistent savior.
Australia has traditionally been a beer drinking nation, however current trends are seeing Wine equaling Beer consumption by 2018 and Cider being the overwhelming fastest growing liquor category. The growth categories in beer continue to be Craft Beer, both in off- and on-premise outlets, however the trends appears to be moving towards off-premise with consumption at home on the rise.
Craft Beer continues to see exceptional year on year double digit growth in liquor stores with 24.2% for local craft and 12.1% for imported craft value growth, from premiumisation with more consumers becoming more discerning with their choices and spend on beer. There is a real opportunity for craft brewers to work with liquor stores to drive sales particularly with events and social media. There is some PR currently for excise tax reform being driven by the Spirits Council for one volumetric tax system.
Australian Bureau of Statistics Beer Volume Year ended 30 June 2009-2014:
Total Beer Volume -6.7%
Full-Strength Volume -7.6%
Mid-Strength Volume +16.7%
Per Capita 92.37 L p.a. -14.5%
Full strength beer remains the most popular type of beer, accounting for around 75% of all beer in 2013-14". "Over the past decade we have seen the popularity of mid strength beer (19% of total beer consumed) grow at the expense of low strength beer (5% of total beer consumed). Between 2012-13 and 2013-14 the volume of mid strength beer increased 6.8% while full strength beer increased 0.4%. Low strength beer recorded a decrease (down 9.0%).
The volume of pure alcohol available for consumption in the form of beer increased by 1.0% and wine by 0.2% between 2012-13 and 2013-14. The volume of beer available for consumption increased 1.0% The volume of pure alcohol available for consumption in the form of Ready to Drink (pre-mixed beverages) decreased by 4.3% and spirits by 3.6% during this period. "Across all alcoholic beverages, there were 9.7 litres of pure alcohol available for consumption in 2013-14 for every person in Australia aged 15 years and over," said Louise Gates from the ABS. "This is the lowest level since the early 1960's."
Apparent Consumption of Pure Alcohol, Beverage type as a proportion of all alcohol 1961 – 2014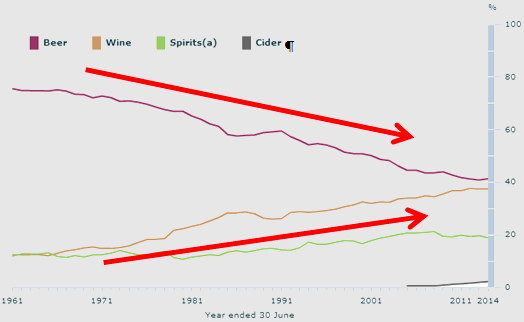 Beer is down to 41%, all other liquor is up - Wine continues to converge to equal beer, now at 37.5% and expected to equal beer by 2018.
iRiAztec
Looking at the off-premise sales for the major independent retailers in the data set MAT 5/4/15:
Total Liquor Value -0.5%, Volume -2.1%
Beer Value -0.6%, Volume -2.9%
Wine Value -0.1%, Volume -1.4%
Cider Value +5.8%, Volume +14.6%
Spirits Value -0.3%, Volume -1.3%
In the last year to 5th April 2015, in the off premise liquor stores Craft Beer has seen 24.2% (19.5% at 2/3/14) growth in value and 24.7% (15.3% at 2/3/14) growth in volume, with the figures from 2/3/14 showing this growth is growing even faster than last year. Now accounting for 5.6% (4.3% 2/3/14) of the total beer value at 3.7% (2.8% 2/3/14) of total beer volume.
So too has Craft International seen great year on year growth with 12.6% (-9.4% at 2/3/14) growth in value and 13.1% (-20.8% at 2/3/14) growth in volume. Now accounting for 0.4% (0.4% at 2/3/14) of total beer value and 0.3% (0.2% at 2/3/14) of total beer volume. Full strength mainstream lager continues to drop, as April 4, 2015 value -6.9% and volume -9.3%, now accounting for 36.5% of total beer volume, which was 38.8% share of volume at March 2, 2014. This drop is from continued premiumisation and consumers discerning palates trading up to Premium International and Craft Beer, or even over to wine.
Premium International, Low-Carb and Ginger Beer are also up year on year, while Mid-Strength was only up on value by 0.4% and -1.0% on volume, showing price growth. The value growth was 4.4% as at March 2, 2014, showing a slowing down and perhaps consolidation of share with 18.8% volume share of total beer March 2, 2014 and now 18.7% April 5, 2015. Ginger Beer is showing consistent value growth year on year, off a very small base. Low Alcohol beer is trending faster decline in both value and volume over the last two years, showing consumers are drinking less and drinking more flavoured and higher alcohol beers.
Looking at the State by State movements for beer sales year on year to April 4, 2015, Tasmania and the NT are the growth states, with 6.6% and 3.5% growth respectively. All other states were down: NSW -3.4%, Qld -3.1%, Vic -1.5%, WA -6.0% and SA -4.4%.
Distribution
With the competition from wine and cider a threat, Craft Brewers are diversifying into cider production and distilling as strategies to compete in these growing categories.
More so than ever before, Australia is saturated per capita with breweries and beer brands, from local and imported suppliers. This is thanks to the previous strong Aussie dollar making imports very affordable and the increasing consumer demand for craft beer, enticing more breweries and beer companies starting up. Here are counts for the breweries, beer brands and beer companies currently in Australia:
Craft Breweries – Small to Medium 230
Craft Breweries – Large 15
Commercial-scale National Breweries 10
Beer Companies 100
Brew on Premise 30
Local Beer Brands 450
Local Beers 1800
Imported Beers 800
The biggest growth year on year ~ 50%.
With the average-size bottleshop stocking 150 beers, that's only 5% of total available SKUs, which becomes dramatically less for bars stocking 30 beers and restaurants 10 beers. The retailer is more likely to stock brands from its region and state than interstate and overseas, and a majority of venues are tied in distribution via contracts to LION and CUB, making the landscape very competitive for imported beers.
The one point in which imported beer is much more competitive than local craft beer is price. With imported craft beer landing into Sydney at approx. USD$12-$15 (being 50% less in wholesale price than local craft beer of similar ABV and flavour intensity). Some venue operators such as Dan Murphy's and ALH pubs are not tied into contracts, both Woolworths owned, which provides large scale distribution for independents (local and imported beers) to approach for business.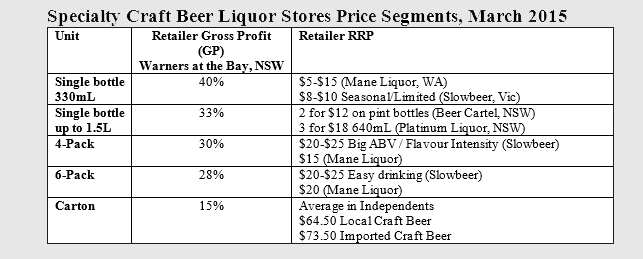 Craft beer sales have bucked the trend of falling overall per capita beer consumption, remaining resilient due to shifting consumer preferences towards premium goods, such as craft beer. In the five years through 2014-15, industry revenue is estimated to increase at an annualised 10% to $167.4 million. This includes an increase of 7.3% forecast for 2014-15. The industry's future prospects are promising.
Consumer preferences are expected to continue shifting towards premium and craft beers, with an increasing emphasis on small, seasonal batches with a local or regional focus. However, increased wine and cider consumption will pose a small but growing threat to the industry. Craft producers are expected to try to offset this through innovative offerings and niche products, such as Belgian, French and German style craft beers.
Downstream pressure from the supermarket duopoly and its effect on retailing is expected to continue into the future, especially as Coles and Woolworths continue to enter the private-label craft beer market. In the five years through 2019-20, industry revenue is forecast to increase at an annualised 5.2% to total $215.8 million. This includes projected growth of 6.7% in 2015-16.
Hot Australian summers, the stigma of high-carb beers and the crisp, refreshing taste of cider will all contribute to the forecast growth of 19.5% per annum in cider. Particularly popular with younger drinkers, cider is expected to grow from generating just $0.9 billion in revenue in 2013-14, to $2.2 billion in 2018-19. Wine (including sparkling) is anticipated to overtake traditional beers as the number one product category by 2018-19, while cider will continue to outstrip other categories in terms of annual growth.
Australians are consuming more alcohol at home than at licensed establishments, with liquor retailers receiving a larger share of total alcohol spending than pubs, bars and clubs. Australians are forecast to spend $17.7 billion at liquor retailers in 2013-14, compared with $10.4 billion at pubs, bars and clubs. This trend is expected to continue over the next five years, with alcohol spending on-premises and at liquor retailers forecast to grow by an annualised 2.3% and 3.1%, respectively.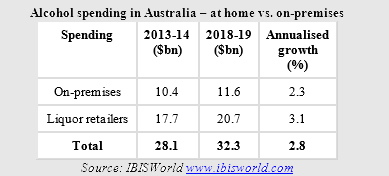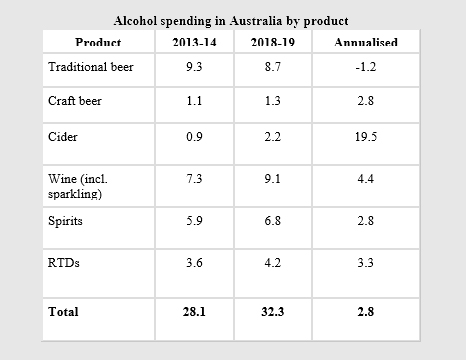 Social Media and Events
Craft brewers in Australia are benefiting greatly from social media promotion and participating in events.
• Social Media - What a great economical and exciting way to promote your brand and your retailers. Use social media to drive awareness of your new releases, seasonals, core range, events and so on, while also promoting retailers in the same area of the event, or flagship retailers significantly supporting the particular new release or limited release.
• Events - Events in retailers do tend to be in-store tastings, however a few retailers conduct beer festivals and carpark type mini beer and food festivals. A good example is Mane Liquor in WA, using their car park to host a few brewery stalls and hire a few food trucks, then matching the food with the beers as a deal, with tastings available, and takeaway deals for 6-packs and cartons, requiring the brands to chip in a small amount of funds for the staff and food, along with producing or crediting tasting stock. These type of events are of course time consuming, however the flow on effect the retailer sees from customers coming back asking for the beers they tasted at the event is excellent. Brands can partner with retailers in beer degustation dinners, or share space at a beer festival or food and wine festival.
Non-traditional retail
Due to the crowded market in traditional on-premise pubs, the opportunity for small to medium craft beers is in the non-traditional outlets of restaurants and cafes. New data, even though old supports this, Datamonitor reported in November 2013 that "Beer has displaced wine as the alcoholic drink of choice for on-trade meal occasions. The quality and breadth of flavors that craft beer offers has made beer a more exciting complement to food." Therefore showing the opportunity for craft beer in restaurants and pub bistros.
The Federal Government has begun the process of reform to Australia's tax system. Alcohol is currently taxed via 14 different rates. This petition recommends a single volumetric tax so that all alcohol is taxed as alcohol – no single drink is taxed differently as is the case now. At present, as much as 72% of the price of a bottle of spirits is tax, while beer is taxed around 33%, wine as low as 28%, and cider amounts to as low as 22% of the retail price. Furthermore, beer and spirits tax rates rise twice a year while wine remains unchanged.
Get rated by Quality, Value, and Packaging by the top trade buyers in the USA. Enter today and avail the early bird offer. Here is how to enter.