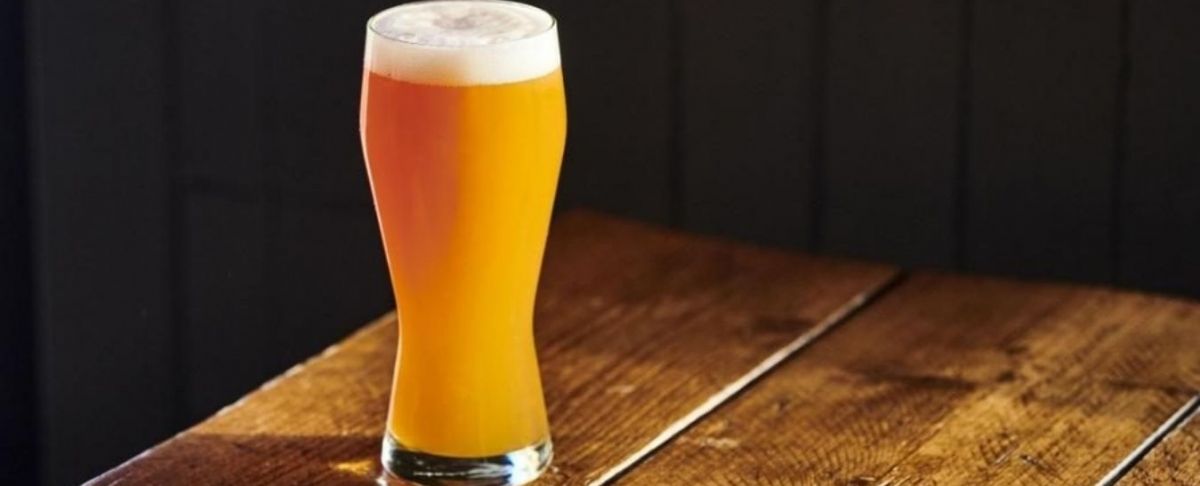 Hazy IPAs Gaining Popularity, Want to Know Why?
14/03/2022 The article below gives insights into the increasing demand for Hazy IPA and how it is different from a standard IPA.
If you know anything about beer, you're probably aware that IPAs originated in 19th-century England. This pale ale style focuses on boosting hop flavors and aromas. IPAs are intended to be hop-forward, which means that the bitterness and fruity qualities of the hops stand out more than other flavor characteristics.
India Pale Ale (IPA) highlights the distinct flavors and aromas that only hops produce. IPA has been around for centuries, with English brewers generally making IPAs with a more pronounced malt flavor and a certain subtlety to hop aroma and flavor. Today, IPA has a pretty broad definition, with substyles pushing the limits of alcohol concentration, using unusual ingredients, or experimenting with methods.
What is Hazy IPA?
As the name suggests, Hazy IPA, often known as NEIPA (New England IPA), Since, in the early 2000s, famed Vermont brewery The Alchemist launched Heady Topper, an unpasteurized, unfiltered IPA. It was surprisingly cloudy, but it was delectable. After that, other East Coast brewers began creating similar versions, and that's how the hazy IPA was created. It is an American IPA with a strong hop aroma and flavor dominated by tropical fruits. It's strongly dry-hopped to the point of haziness, with a fuller body, smoother flavor, and less perceived bitterness than standard IPAs. As a result, it is hoppier and hazier than a traditional IPA. It's also unfiltered and has a lot lower bitterness than classic IPAs and other IPA sub-categories, and its hazy appearance makes it look like fresh fruit juice.
How are Standard IPAs different from Hazy IPAs?
The difference between hazy and standard IPAs is determined by the hops used. Both styles employ a lot of hops, but in different ways and at various stages of the brewing process. Traditional IPA typically includes these hops during the boil, allowing a more bitter flavor to emerge.
Hazy IPAs, on the other hand, add hops toward the end of the boil, following, or during fermentation (dry-hopping occurs when hops are added during fermentation). Dry hopping is responsible for the exquisite taste profiles of hazy IPAs. But on the other hand, Dry hopping also contributes to the haze by leaving behind a lot of hop oils and particles.
The addition of hops, in the end, allows a different flavor profile to emerge, one of the flowers, citruses, and tropical fruits. This method also results in a considerably less bitter beer.
Hazy IPAs frequently include grains to make the beer creamier, richer, and smoother. Whereas most IPAs adhere to barley malts, hazy will occasionally add oats and wheat to the mix. Both grains provide richness and viscosity, which is ideal in a haze.
Most brewers employ yeast strains that drop out when brewing a classic IPA, resulting in a clearer beer. However, brewers need particular yeast strains to develop fruity esters in hazy IPAs. They provide a lot of flavors, but they also leave yeast sediment, which adds to the haze. Another reason hazy IPAs are so popular is that they range in alcohol content from 4 percent to 9 percent. Despite having a much larger flavor profile, hazy IPAs do not have a greater alcohol concentration than ordinary IPAs.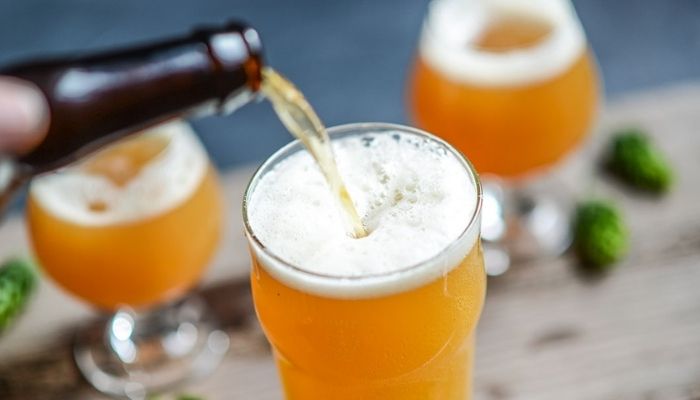 Image Source: Craftbeer, Hazy IPA
What makes hazy IPAs so enjoyable is their taste.
Without the addition of fruit or juice, hazy IPAs are luscious and delicious without adding fruit or juice. They have a creamy texture, full of aromas and flavors that are refreshing and lively without overpowering each other. The brewers don't use fruit or juice to generate these intense flavors. Citrus, mango, orange, and passionfruit are popular flavors.
Hazy IPAs are desirable because they have a thick, pleasant mouthfeel (the density and the added solids) and a decreased perceived bitterness. Hop aroma compounds also want to stick to those huge organic molecules in the haze, which is why hazy IPAs have such a big hop flavor and aroma punch.
[[relatedPurchasesItems-43]]
Here are some of the market's highest-rated New England IPAs.
Elysian is one of the most well-known breweries in Seattle history. Elysian Contact haze is a 6% Hazy IPA, light to medium-bodied pale ale, tangled chemistry of mild haze, low bitterness, and explosive hop aroma, with vibrant raspberry, currant, citrus, guava, and passion fruit notes. It is brewed with Pale Ale Malt, Flaked Barley, and Oat Malt, and it's hopped with Mosaic, El Dorado, Sultana, Southern Passion, Sabro, and Citra.
Sierra Nevada was one of the first to make a splash with a nationally marketed hazy IPA release. The Sierra Nevada offers a diverse range of Hazy IPAs. For example, hazy Little Thing IPA is 6.7 percent ABV and silky smooth, Fantastic Haze Imperial IPA is 9 percent ABV with five assertive hops, and Summer Break is a Session Hazy IPA with an accessible 4.6 percent ABV for those long days of sunny play.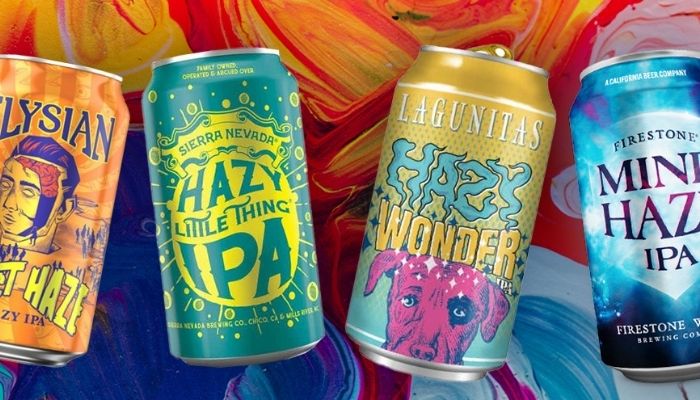 Image Source: Uproxx, Hazy IPAs
California-based Lagunitas Brewing Company's hazy wonder is a 6% New England IPA, Hopped with Sabro, Cashmere, and Citrus for a smooth tropical fruitiness flavor. It is a mildly bitter IPA with a haze and a light mouthfeel.
Mind Haze By Firestone Walker Brewing Company is a 6.2 percent hazy IPA made in Paso Robles, California. The beer is hopped in the kettle with Mandarina and Cascade, then dry-hopped with Azacca, Mosaic, El Dorado, Chinook, Cashmere, Callista, and Idaho 7. It is brewed with Two Row, Wheat, Torrified Wheat, Munich, Oats, and Blonde Roast Oat.
There's a lot to enjoy and discover with practically limitless flavors and enticing hop aromas—and something for everyone. Even if you like a traditional IPA, you might be surprised by what hazy IPAs have to offer.
Article By Aakriti Rawat, Beverage Trade Network
Header Image Source: Simpsons malt, New England IPA (Hazy IPA)
Get rated by Quality, Value, and Packaging by the top trade buyers in the USA. Enter today and avail the early bird offer. Here is how to enter.