2019's Best German Beer Announced
25/08/2019 ABK Edel by ROKit Drinks announced as 2019's Best German Beer
ROKit Drinks' ABK Edel announced as 'Best In Show By Country (Germany) at the 2019 USA Beer Ratings held in San Francisco on 21 July. 2019's Best German Beer also seized a Gold medal at the competition.
ABK Edel comes with 5.8% ABV. If you are a fan of malty beer with a lovely pillowy head, a deep gold colour and packed with malt, you ought to try Edel! Coming with pale straw colour & golden hints, Edel has a velvety white frothy head which reduces gently to some light lacing.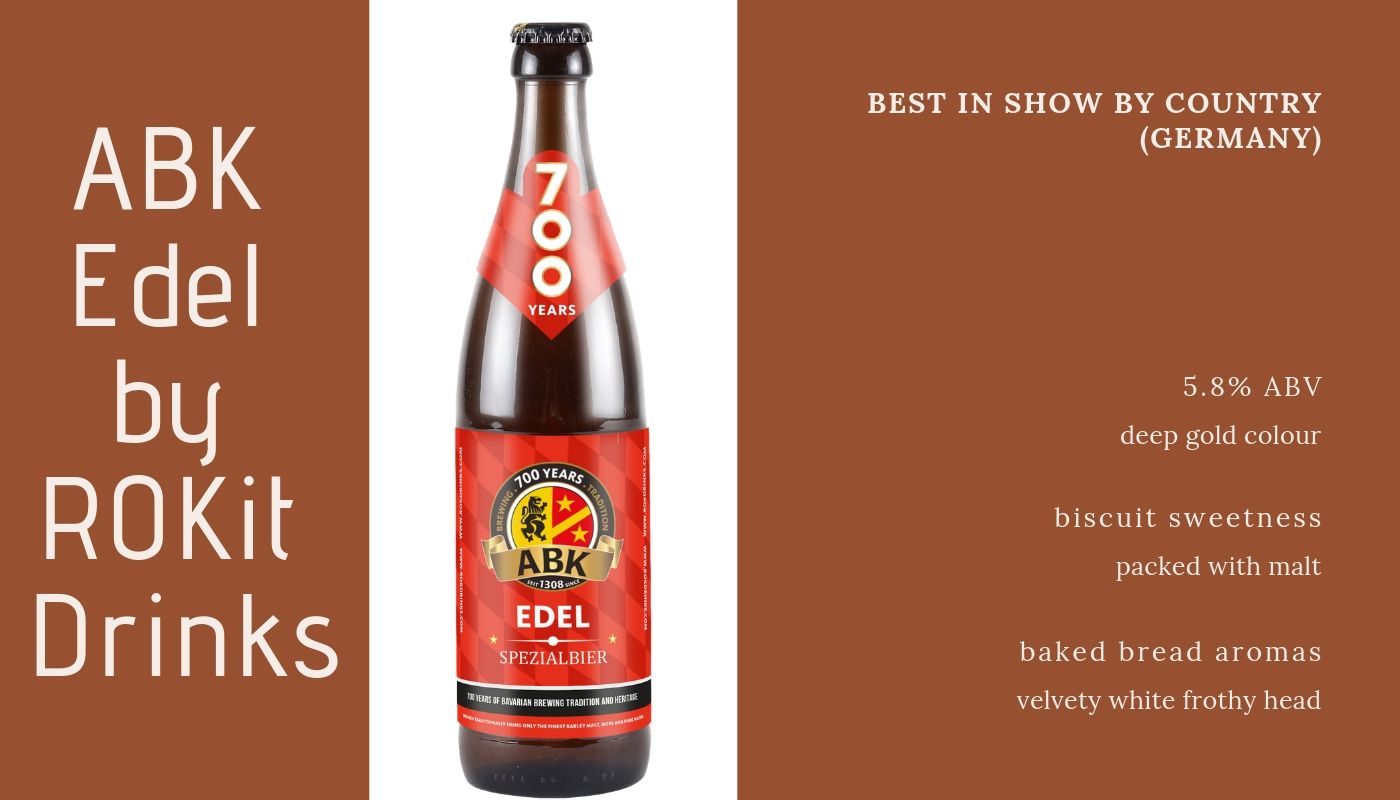 The aromas of Edel is mostly hops mixed with a biscuit sweetness and gives you freshly‌ ‌baked‌ ‌bread aromas on the nose with a hint of some sweet apples and pears. On the palate, you'll notice the slightly toasted malts and light floral hops which start with light biscuit malts, before a sweetness, to form a buttery bitter finish.
In 1308 the ABK - Aktien Brewery of Kaufbeuren, alongside its cellars, courtyard, and barns, was donated to the natives of Kaufbeuren by Henry Twinger, a well off nearby Baron. The Kaufbeuren Brewers Guild was created in 1325 - declaring that all beers produced in Kaufbeuren could just utilize the finest barley, hops, yeasts and the purest local waters - to guarantee the highest quality beers. All other ingredients were banned. The Aktien Brewery was even more known for their radiantly crafted beers.
To know more about 2019's Best German Beer and its brewery, click here.
ROKit Drinks is a division of ROK Stars PLC. It is a premium drinks business with a unique collection of soft drinks and alcohol brands across spirits, beers, water and energy drinks.
With a mandate to 'Build the Mega Brands of Tomorrow, Today', ROKiT Drinks has sourced and developed some of the finest drinks available within the product sectors it focuses - including an array of ABK beers. Offering consumers high quality and exceptional value, from premium beers brewed in Bavaria to locally sourced bottled water and 100% Natural energy drinks.
To evaluate the entrants, the USA Beer Ratings invites a leading panel of top-level beer industry experts where beer is judged on the three parameters of Quality, Value, and Packaging.
The USA Beer Ratings, organized by the Beverage Trade Network, a leading platform that connects the alcohol beverage world - is the leading beer competition in the United States that looks to recognize, reward, and help promote beer brands that have successfully been created to identify and target a specific beer drinker.
To check out other winners, click here.
If you are a winner, you can order your medal stickers from here.
To know more about the competition, click here.
If you are a brewery looking to grow your beer business in the US, enter into 2020 USA Beer Ratings and get your beer assessed by top-level beer buyers associated with major on and off-premise chains. The competition will take place on 26 July 2020 in San Francisco. Currently, the competition offers a discount on regular entry-fee. Enter before October 31, 2019, and take advantage of super early bird offer.
See what this competition offers your brand.