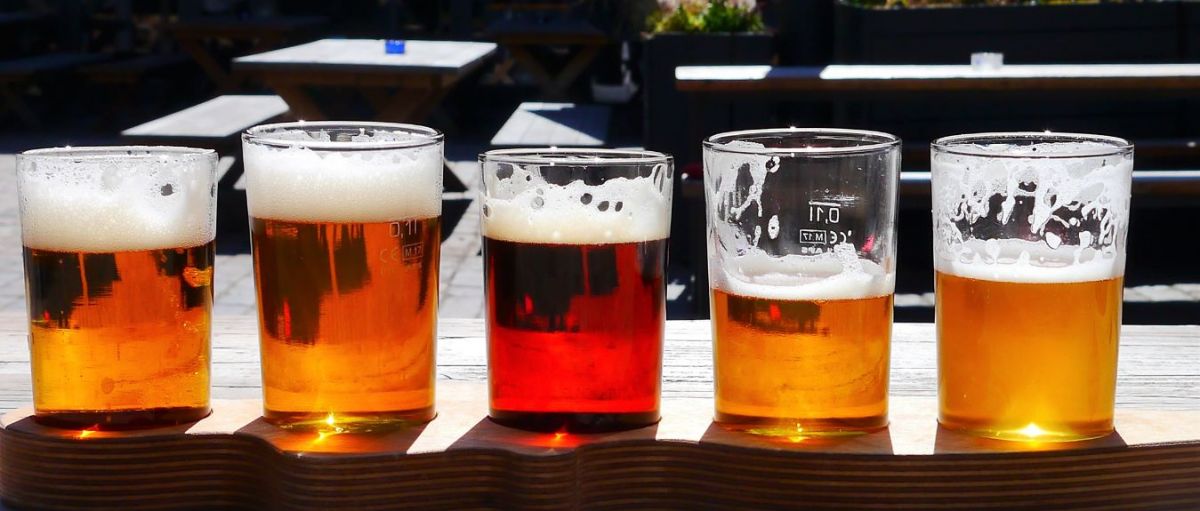 Build A Successful Craft Beer Brand with These 7 Steps
20/06/2022 Let's look at how successful brand design tactics can help craft beer brands improve their commercial success.
Craft beer's popularity is at an all-time high. Several new breweries are being launched worldwide every day and compete for buyers' attention. There are several factors that you need to keep in mind to brew a successful business, but your two primary objectives must be to offer high-quality products and effective branding to your customers. Effective brand designing measures can help craft beer brands to improve their commercial success.
Branding Can Be a Challenge for Many Craft Beer Brands
Craft brewers who want to develop their company and want more people to appreciate their beers must establish strong brands in a market that is becoming extremely competitive. In most cases, craft brewers have a fraction of the resources that huge competitors in the market have access to, and because many brands are developed out of a passion for good brewing, marketing sometimes takes a back step. While effective branding can help a great product succeed faster, it must be considered and implemented during the early stage to gain commercial success.
[[relatedPurchasesItems-43]]
There is no doubt about the fact that there are many brewers who are satisfied by doing what they love, offering a fresh daily brew to friends and a few pubs or restaurants in the neighborhood. But many have tasted success and are eager to develop real brands so that more people can enjoy their brewed beers. They want to tell their experiences, grow their company, and connect with a bigger audience. There are even people who are actively establishing brands, scaling their businesses, and expecting their brand will be acquired by a major label, earn a profit, and continue the cycle. Whatever your purpose might be, developing a real brand needs proper preparation and careful planning right from the beginning.
Nowadays, people enjoy having a craft beer occasionally, but when they visit any local beer joints with a large selection of brands on the menu, most of the time they don't remember what they have been drinking by the end of the night. If you want people to remember your brand you must show them your business personality, explain to them your ideas, and underline what sets you apart from your competitors.
Below are some of the popular brands and the common steps they follow to increase your commercial success as a craft beer brand: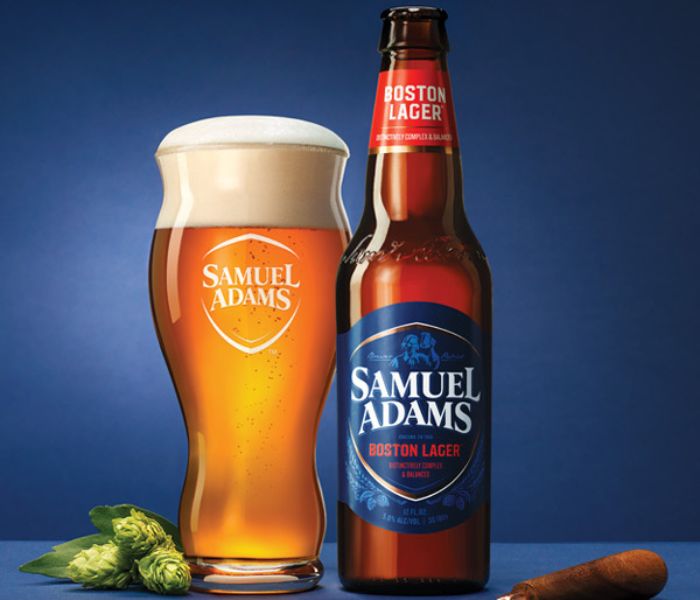 Image Source- Samuel Adams
Brew Quality Beer
The core foundation of craft beer is the quality of the product, which makes it unique. The craft beer industry came as a result of consumer dissatisfaction with the watery flavors of several mass brand lagers. Offering better value to drinkers begins with a good-tasting beer that is served as fresh as possible, it does not matter whether you use a unique quality control process or apply special ingredients during brewing, but the beer must be fresh while consumption.
You can follow in the footsteps of Boston Beer as they believe in offering their customers the best quality and flavors of craft beer. Jim started The Boston Beer Co. with his co-founder and first employee Rhonda Kallman. Jim brewed his first recipe in his kitchen with the goal of challenging the American beer industry's status quo. He began by introducing American beer enthusiasts to flavorful, balanced, and sophisticated craft brews made with high-quality ingredients. Initially, Jim had to walk from bar to bar with a briefcase full of Samuel Adams Boston Lager, named after one of the country's great founding fathers, a revolutionary man with an independent mind and spirit. After making its public appearance in Boston on Patriot's Day in April 1985, Boston Lager quickly became a driving factor for the American craft beer revolution. Today Samuel Adams is one of the most loved craft beers worldwide due to its fine quality and amazing flavors. These two are the primary quality that craft beers must have! You can enjoy Samuel Adams beer globally as well as in the taprooms in Boston and Cincinnati.
Image Source-Left Hand Brewing Co.
A Good Brand Story
You can use storytelling to connect with customers emotionally and communicate your value proposition. Storytelling is one of the ancient techniques for attracting and maintaining people's attention. You can tell your customers different stories related to the brand. It can be anything, starting from the problems that you faced while building the brand and how you solved it to what inspired you to form this brand.
If you follow Left Hand Brewing you will see that they emphasize telling stories to stand out from the competition. Customers are drawn in by the story of two buddies who were unhappy with the beer selection and decided to brew their own. The company says they are not hesitant to make unique judgments "When The Mainstream Goes Right We Go Left". A good story will help you to connect with your customers apart from offering great value and a good product.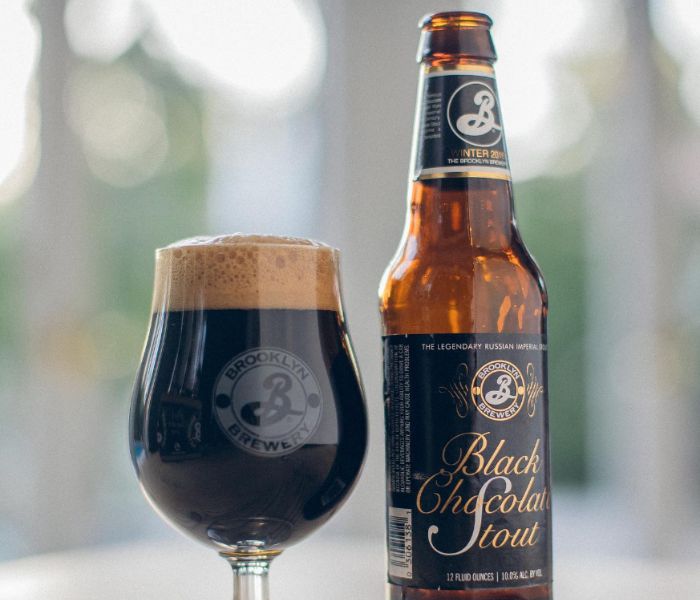 Image Source- Brooklyn Brewery
Make it Available in Bars and Retail Channels
Sure, you make an excellent product, have a compelling story and value proposition, and people love your beer, but it will not help you much if they cannot locate it or purchase it from where they regularly shop. Many people start their road by visiting local pubs, offering bar owners to try their beer, and then securing a place for their brand, but breaking into retail is a very different story. It can be difficult to get your brand listed in a national retailer. When you address the issue of availability, you take a major step forward in terms of brand growth. Getting your craft beer brand into major retail allows you to reach a wider audience and help your brand to reach new heights.
Today everyone knows about the company Brooklyn Brewery and their craft beers are available in almost every bar in the USA. It was only possible due to their marketing strategy and quality craft beers. The Brooklyn Brewery was established in the hope of bringing back brewing to Brooklyn, which was once a hub of brewing in the USA. Today they have surpassed the dream because their beers travel to more than half of the United States and to thirty other countries. Their expert team brews everything starting from classic styles to bold experiments so that they can cater to every type of taste bud. Brooklyn Brewery also collaborates with brewers, innovators, and artists worldwide so that their beer can reach every corner of the world.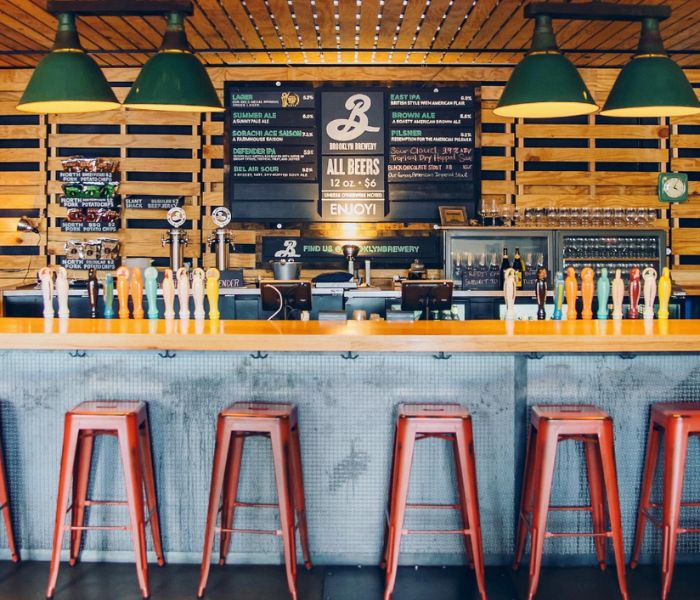 Image Source- Brooklyn Brewery
Understand Distribution and Logistics
Getting into retail involves having a detailed knowledge of how distribution and logistics challenges can deteriorate the quality of the beer. It is necessary for your products to reach the customers, and an unorganized distribution and logistics strategy might degrade the quality of your product. Before choosing the correct distribution partner to get your product from your brewery into retail outlets and bars, you must consider the effects of light, temperature, and time.
If you look at any of the craft beer brands mentioned here you will see a common factor in them and that is they understand their distribution and logistics. These brands know how crucial it is for their beers to reach customers while maintaining their flavor and freshness. And for that, they have an expert team related to distribution and logistics who are responsible for distributing these craft beers to their accurate location.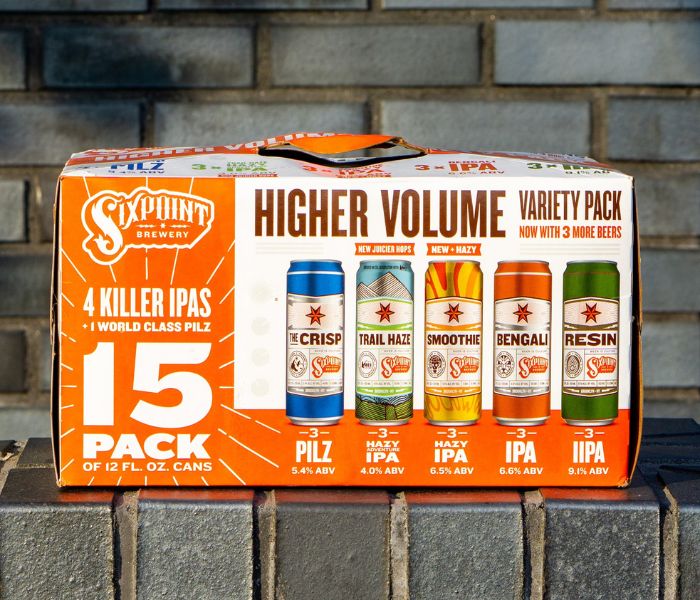 Image Source- Sixpoint Brewery
Design your Logo
Customers may learn about your story, mission, and value offered through your design. You need to understand that your company's logo is its primary visual representation. Craft brewers frequently emphasize on the emotional aspect while designing their labels: history, talisman, and mission. The design could also be inspired by the location where you do your business, cutting-edge brewing techniques, or unique ingredients that you use in brewing.
A Brooklyn-based brewery Sixpoint Brewery is built on "crazy science," which is a blend of scientific and creative thinking. Their major branding element, which is in their logo is a distinctive six-pointed star, which combines a sea star (a reference to Brooklyn's port past) and a historic quality mark of German brewers (Brauerstern). You can use your logo in packages, websites, social media, business cards, and labels. Your bottle shape, label color, and packaging material must be consistent in style and convey the same message as it is there in the logo.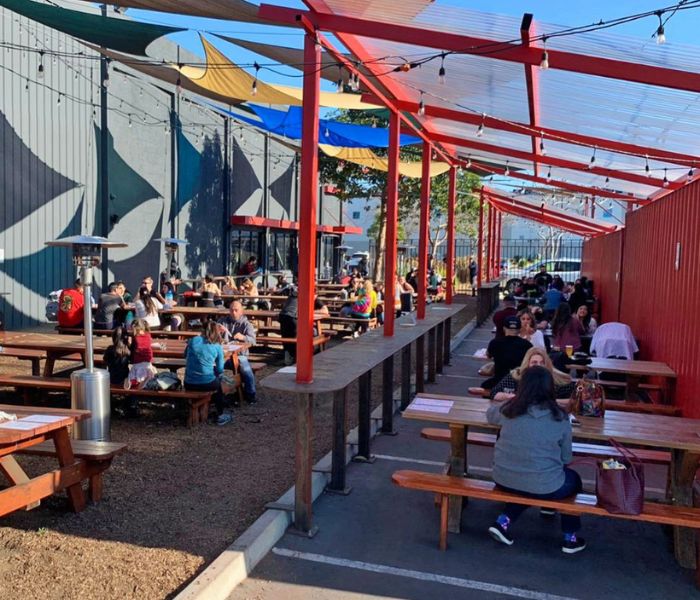 Image Source- 21stAmendment
A microbrewery or tap rooms have become a common feature of craft brands. You can create a great experience among the customers when you open a pub around your microbrewery or permit tours, tastings, and special events that can be hosted on-site. You can even charge people for these types of events, up to the point where good experiences can also generate revenue for your brand.
A microbrewery is not only popular among the younger crowd but older people also like to go there and enjoy their beer with their friends. You can offer your customers the freshest beers with a good ambiance. For example, 21 Amendment offers one of the best taprooms where they have indoor and outdoor dining and you will get a wide collection of craft beers. They also organize live music so that their customers can enjoy some good music with their beer and food. The customers are also allowed to host private parties and celebrate their special moments in a good ambiance with the finest quality craft beer and food.
Don't Ignore the Details
Finally, it is extremely important to keep an eye on every small detail to build a successful craft beer brand, such as corking the bottle, you have to ensure the way you want to cork the bottles, with plastic, tin, or other corks. The type of packaging in which you are going to sell your beer, such as cardboard or plastic, is six, eight, or twelve bottles. While branding your beer you will also have to see where you want people to drink their beer, at home or in bars for which you will require branded coasters and coasters.
In the last few years, the craft beer business has grown at a breakneck pace, dramatically transforming the alcohol market. People have seen thousands of brands enter the market in a relatively short period, with more than 5,000 small breweries opening up in the United States alone in the last few years. These are some of the basic strategies which you can maintain while developing your brand and they will help you to improve your commercial success. If you are interested to know more about beers you can visit the website of Beverage Trade Network as it can help your brand to get more exposure and fuel your growth and contacts.
Written By Aparna Dutta, Beverage Trade Network
Get rated by Quality, Value, and Packaging by the top trade buyers in the USA. Enter today and avail the early bird offer. Here is how to enter.