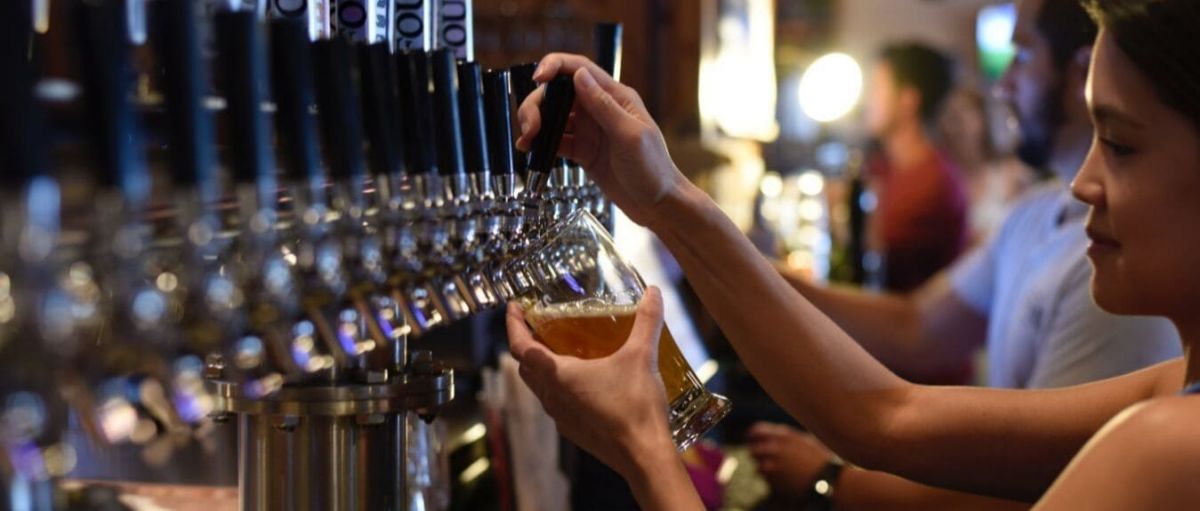 Beer in Oregon
17/07/2019 Oregon is the best place for real beer experience in the United States. Visit its breweries and bars to explore.
Beer heaven, hop center of the world, and second largest hop producing state in the United States! It is Oregon. For centuries, beer has been associated with the popularity of this state. In 1852, the first brewery of Oregon was opened by Henry Saxer in Portland. Since then, Oregon has been one of the most iconic places for amazing beer.
During the last five years, Oregon has grown with around a hundred more breweries that the past. There are a number of large brewing companies, mid-sized and small breweries in Oregon. Some of them are Agrarian Ales, Boneyard Beer, Block 15 Brewing Company, Cascade Brewing, Falling Sky Brewing, Hop Valley Brewing, Oakshire Brewing, Upright Brewing, and the list goes on. Most of these breweries produce kegs of beer which are then served on draft at taverns and restaurants. Let's have a look at some of the breweries of Oregon.
De Garde Brewing
De Garde Brewing is located on the Oregon coast. It is dedicated to producing unique craft beer. Unlike many other breweries, this brewery does not use laboratory cultured yeast to ferment the beer. They cool the wort naturally in the coolship. After cooling, beer is transferred to barrels where it takes its own time to finish fermenting. This brewery is open for a visit. You can visit their tasting room on Thursday and Friday from 3:00 pm to 7:00 pm, Saturday Noon to 7:00 pm and Sunday 11 am to 5m.
10 Barrel Brewing
This brewery is popular for its strong IPAs and refreshing sours. Its original location is in Bend and other outposts are in Boise, San Diego, Denver, and Portland. They started their production in Bend in 2006 and opened distribution in Portland in 2009. They also have a brewpub in Boise and Idaho. In case if you visit the bar over there, not to miss is Apocalypse IPA. Some of the other beers are Joe IPA, Out of Choice, Pub Beer, Trail Beer, and Pearl IPA. You can even visit the brewery. Their brewery tours start with a quick history lesson. Then you will be led on a tour around the brewery and their new packaging facility. Visit their website.
Fort George Brewery
Fort George Brewery is best known for its dank IPAs, malty ales, and stouts. It is situated in a historic location at the center of Downtown Astoria. It crafts original beers that are distributed only in the Pacific Northwest. Some of their popular beers are the Age of Reason, 3-Way IPA 2019, Cathedral Tree, and Pipiopi. This brewery is open for visits.
Oregon is also a host to many beer-oriented festivals and each festival has its own unique focus and expression. One of them is the Oregon Brewers Festival. It is the largest gathering of independent craft brewers in the United States. The oldest brew festival, the Gold Beach Brew and Art Festival is held o Saturday after Labor Day. Visiting these festivals in Oregon is always worthy and wonderful for beer travelers.
Click here
for top American Breweries & look out for the good quality & authentic Beer.
List of Beer Festivals in Oregon in 2019
Oregon Brewers Festival
Brewstillery
5th Annual Bakers Dozen Fest
Irish Beer Festival
Cider Rite of Spring
Portland Farmhouse and Wild Ale Fest
Kriekfest
Portland Beer Week
Portland International Beer Fest
Cider Summit PDX
Portland Craft Beer Fest
Summer Strawberry Beer Fest
Checkout top beer festivals of the United States.
While the City of Roses is popular among beer lovers, let us tell you that it has a wide array of beer bars, restaurants, and dive bars. For travelers, it is quite easy to find a good beer in Oregon. Below are several good bars where the search ends.
Bailey's Taproom
Bailey's Taproom is located in downtown Portland. It offers 26 constantly rotating taps that cover the entire range of beer styles. Know more about them here.
Belmont Station
Belmont Station was founded in 1997. Since then, it has become a premier beer destination in Portland, OR. They feature more than 1400 beers that are carefully selected and 34 rotating taps. The cask here pours world-class beer and cider. Know more about them here.
Broken Top
Broken Top was started in 2012. This brew hub is quite sincere about its craft brews, delicious food, and hospitality. This bar also has been listed in the Top 10 Best and Most Iconic Beer Bars in Oregon by Willamette Week Magazine. Know more about them here.
Horse Brass
This traditional English-style bar serves proper 20 oz imperial pints and traditional English and American pub grub. This bar has been there for 42 years, constantly serving good beer, good food, and good company. They offer 50 local, regional, and international beer varieties. They have a wide range of varieties of ales lagers, stouts, sours, and lambic beers. Know more about them.
Oregon is the best place for real beer experience in the United States. All across the state, you will encounter the best of American craft brews, IPAs, and award-winning sour beers. You will also see gluten-free breweries, micro-integration hop farms, and America's only beer spa. So, plan your trip and explore this beer heaven.
Get rated by Quality, Value, and Packaging by the top trade buyers in the USA. Enter today and avail the early bird offer. Here is how to enter.